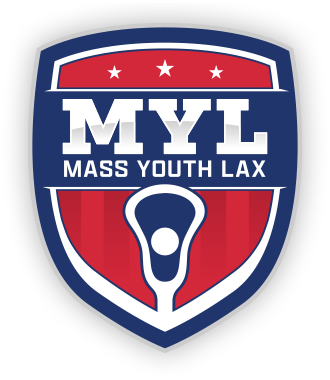 As MYL enters its 30th season, the sport of lacrosse continues explosive growth in Massachusetts. Moreover, by some accounts, lacrosse has become the fastest growing team sport in the United States!
We would like to take this opportunity to review the League's philosophy with both newcomers and veterans. MYL is an instructional community. It teaches the joy of the sport, as well as good citizenship on-and-off the field.
Our philosophy in the MYL Classic program is all players participate equally (i.e. equal playing time) in all games on evenly balanced teams based on a player's grade, age, skill, size and experience playing a local game schedule in their region. There are no "A" and "B" or "stacked" teams, nor standings and playoffs at any level of the MYL Classic program (our traditional league games on Sundays).

Our Select league is an additional own-based playing opportunity—NOT a replacement for a player's participation in the MYL Classic program. Select team players must also participate on their MYL Classic team (Why? See Goals under MYL Overview). MYL Select has division-based standings, playoffs, Championship, and All-Star games.

Our coaches are trained and certified to be teachers of the game and role models focused on player development, teamwork, and learning the fundamentals—especially the "fun" part. MYL is an inclusive organization open to all towns and cities where, collectively, we strive to always provide a safe, enjoyable learning experience for all participants in an environment not swept up in the pressure filled, win-at-all-cost mania too common in youth sports today.
This philosophy leads to several practical hallmarks of MYL:
Players receive equal playing time during all MYL Classic league games
MYL Rules are modified to emphasize sportsmanship & safety
Responsible growth and greater player participation in our member towns at all levels of the game
A fun, rewarding experience for all MYL participants (including coaches, officials, and spectators)
Your child's coach should never sacrifice your child's playing time for the sake of winning a game. Although MYL does not teach coaching to lose, neither does it stress winning as the only goal of the program. The goals are to help kids learn the game, to respect the sport and each other, and to have fun.
The MYL philosophy enables players to learn in a supportive environment free from undue pressure in which an honest, educational mistake may "cost" the team a game or championship. This approach also empowers coaches to focus on developing and supporting all the players and not on worrying about winning youth championships.
We have learned over 30 years that this approach benefits both experienced players and new players at any level. High school coaches across the state will tell you of great players who didn't pick up a stick until 8th grade. Likewise, many high school and college lacrosse stars did not stand out in youth lacrosse but soared once they blossomed physically in their late teens. In athletic environments where instruction and sportsmanship take a back seat to performance and standings, too often these types of athletes receive inferior opportunities and drop the sport prematurely. We believe there is nothing more detrimental to the growth of lacrosse than to tell children they aren't good enough to play it.
The results of this philosophy speak for themselves: MYL is one of the largest lacrosse organizations in the country, with over 13,000 athletes playing on more than 800 teams in 2022. MYL has been a major factor in the growth of the sport in Massachusetts, is a principal reason for the selection of Boston to host the 2008, 2009, 2012. 2017, and 2018 NCAA Championships, and is regularly consulted by programs nationwide for advice on setting up new leagues. The caliber of play improves every year and the ranks of college lacrosse teams are increasingly filled by Massachusetts players who got their start in MYL. The sport we love continues to grow!